Clarifying "3D Wall Panels" and "Wave Wall Textures"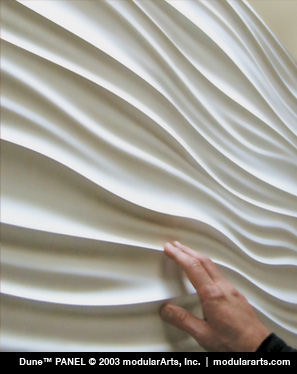 With the introduction of modularArts® in 2002, a new category was formed – Sculptural Wall Paneling. In the years since that introduction we've seen a few companies emerge ready to emulate a similar style, with various degrees of success and quality. A simple search of "3D wall paneling" or "wave wall" will bring up many different avenues to navigate.
We like open and honest competition! And we talk with thousands of Designers and Architects around the world and sense that there is some confusion regarding the differences between these companies, how to to tell them apart and specify a quality product.
It's worth clarifying MDF: Medium Density Fiberboard (or MDF) is wood particles held together with resins and adhesives. You will often find them cheap, and sporting crude imitations of original modularArts designs. modularArts® does not use MDF, we use Glass Reinforced Gypsum for its flexibility, ease of installation, light weight, ability to join in a seamless surface, and crisp detail.


Here are some companies producing wall paneling:

Textures 3-d® (China Design Studio, LLC d/b/a Textures 3D Panels): Chinese machined MDF, material produced in Malaysia.

Interlam: They produce a wide range of products, mostly MDF, however there is a new plaster product called "Super Rock".

3d Wall Panels: Chinese manufactured MDF.

Innovative Accents: Machined MDF.

WallArt: Small tiles embedded with sustainable fiber. They place a priority on being green and eco friendly. Linear designs are not continuous.

Armourcoat Sculptural: Plaster panels that are glued to the wall.

We invite you to test the products out, get product quotes, and learn more about their product difference.
For any further information please contact info@modulararts.com.
Featured Articles
Clarifying "3D Wall Panels" and "Wave Wall Textures"
Back in 2002, modularArts® created a new category – Sculptural Wall Paneling. Now that others have jumped in the game, we'd like to clear up some potential confusion.
Super-size your Rock Panels?
Get just the right size...
Featured Designs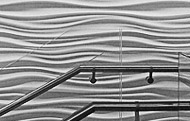 DUNE™ PANELS
The Original "Wavy Wall."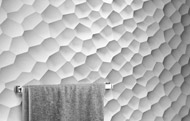 ZELLE™ TILES